Representing Virginians for Social Security and Veterans Disability since 1981
Thank you for contacting the Disability Law Firm of Geraty Holub and MacQueen.  We will be following the guidelines recommended by President Trump and the CDC to help stop the Corona Virus epidemic in the United States.  For the health and safety of our employees, our work schedules are changing and we may not be able to return phone calls as quickly as we'd like to.  Please have patience, and take care of yourself and family.
For over 30 years, Geraty, Holub & MacQueen, PLC, has been helping clients with Social Security disability, Veterans disability, and workers' compensation claims.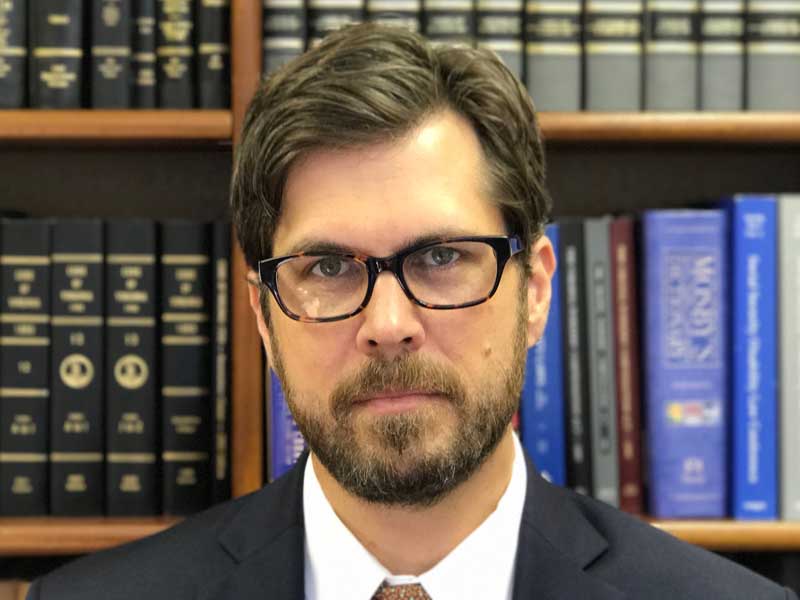 Bob Holub, Attorney
Robert J. Holub, Jr., a Virginia native, has since 2006 represented Virginians in their fight to obtain the benefits they deserve, including Social Security, Veterans Administration, Virginia Retirement System, and other disability and workers' compensation benefits. Mr. Holub is dedicated to providing to each of his clients the highest level of quality, straightforward legal representation during a period of physical and/or mental disability that can be emotionally and financially devastating. In addition to his law practice, he has been active in training and informing healthcare and legal professionals, law students, and families about the intricacies of Social Security Disability, Supplemental Security Insurance and Veterans Disability programs through pro bono seminars, internships, and public forums.
Have a question for us?
If you are interested to see if we can help with your claim for Social Security disability, Veterans disability, or workers' compensation, we are happy to speak with you and provide straight forward answers in a free consultation. Call us toll-free at (855) 282-7243 or send us an email.
Geraty, Holub & MacQueen, PLC
For over 30 years, Geraty, Holub & MacQueen, PLC, has been helping clients with Social Security disability, Veterans disability, and workers' compensation claims. We are pleased to represent clients in Central and Southwest Virginia.
Why hire an out-of-state firm when you can have a local law firm in Virginia with a commitment to our community assisting you with your case?
We are a Virginia-based law firm helping Virginians win disability claims since 1981.
Latest Posts from Our Blog
There has been a backlog of about 300,000 new disability claims at the Department of Veterans Affairs. 
as disabled and be afforded special accommodations under the Americans with Disability Act (ADA) to continue to try to work.
Geraty, Holub & MacQueen has received many questions about how the global COVID-19 Pandemic impacts Social Security disability claims. Here are some answers.
If you are looking for a law firm to fight for your social security disability, I highly recommend Geraty, Holub and MacQueen. They are very skilled, professional and care about their clients. The law firm will take the time to explain your case and make you feel at ease about a very difficult time in your life. Don't make the mistake in not calling them first. My case was extremely difficult and they knocked it out the park. I won my case. Thanks for the great service!
I was very pleased with the service I received from
Geraty, Holub & MacQueen, PLC
. They were all extremely knowledgeable, client focused, and highly professional. My questions were always answered promptly and the process explained explicitly.
Thank you Geraty, Holub & MacQueen for advocating for me. We won! I give this firm 5 stars! Keep up the good work!
The Virginia State Bar Rules of Professional Conduct require all attorneys to make the following statement and disclaimer in regards to publication of their case results:
‍Settlements and verdicts in all cases depend on various factors and circumstances which are unique to each case. Therefore, past results in cases are not a guarantee or prediction of similar results in future cases which the firm and its lawyers may undertake.
Request a Free Consultation
We're happy to discuss with you your situation. Please contact us today.